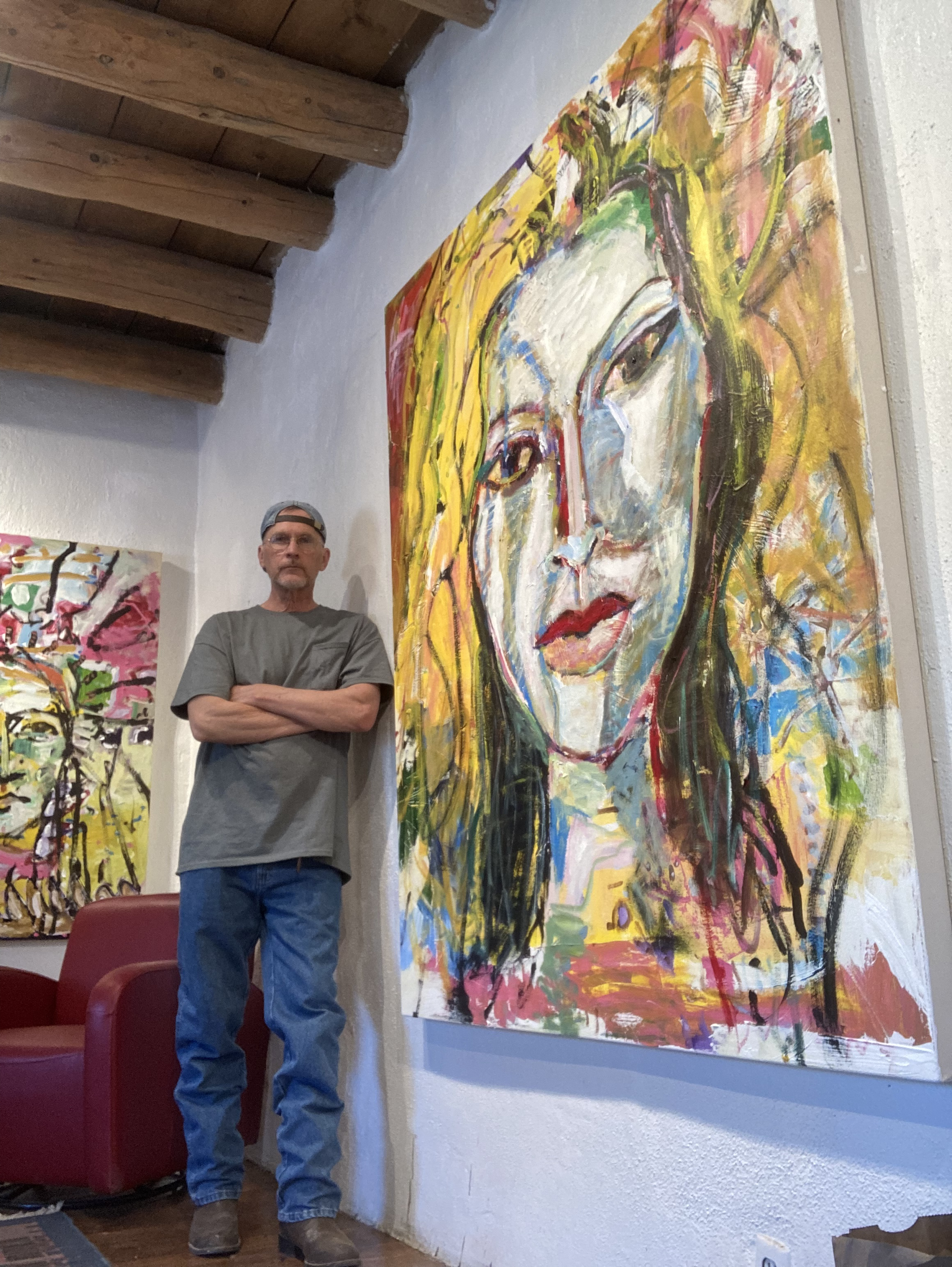 Brad Smith – Artist's Statement
I became an artist without knowing it. I just loved to paint and draw. In preschool I remember winning the drawing contest for Thanksgiving, a big turkey was my subject…with bright, colorful tail feathers. I don't think my style has changed much since so I was always an artist from my earliest memory.I paint because I love to… It's just that simple. I love it when I can share a painting with someone and bring positive energy to his or her home or environment.I have a gallery in Santa Fe, because it is my destiny. Just like the acorn is destined to be a tree…that is where my life has brought me. I embrace that and am happy, feeling I am on purpose for the first time in my life. I have arrived where I am supposed to be.I have a wide range of inspirations and appreciate that each demands a different approach. This excites me as I feel my way through each painting, realistic or abstract.Many collectors ask me where my inspiration comes from. When the monarch butterfly goes to South America he is driven by some unseen force that cannot be explained. That is what being inspired feels like to me. It cannot be explained and takes me to places I have never been before and will never understand.I have found that making a great painting is not so much about my education or technique but about not being afraid to bear my soul for all to see. Of course, there are some that would disagree, but so much of what we think is really just our own personal perception or illusion of the way we perceive things to be. Make no mistake; if a painting is truly a masterpiece even the "novice eye" feels something that transcends words in the presence of such work. A piece of heart and soul in each brush stroke command such attention, making a timeless classic painting to always be enjoyed.If I haven't already, I hope I have the privilege of sharing a painting with you.

About Brad Smith
From his earliest memories of childhood forward, Brad Smith has needed no persuasion to acquaint himself intimately with art. Brad's lifelong compulsion to make music, to draw, to paint, and to relish every kind of learning, bears exquisite fruit in the paintings he creates today.Brad developed a referral clientele and gallery following in Dallas in the 80's, doing portraits and murals. He moved to Santa Fe in 2000, shifting his concentration from working primarily as a professional musician to focus all of his creative energy into his painting. His paintings sold briskly from the start allowing him to open his own gallery in 2006. His highly sought after work is now collected internationally and he is celebrated as one of the premier artists on Canyon Road.Brad paints from his heart. He has developed a wide range of artistic approaches, each tailored uniquely to the needs of the particular subject. Whether a bouquet of flowers, a wild butterfly garden, a grove of aspens or a colorful sailboat in the South Pacific, each Brad Smith painting is a piece of his heart and soul masterfully presented on the canvas.Motivated by the urge to cultivate, to make things grow, Brad often includes plants and flowers in settings and as subjects. He is perhaps best known for his paintings of women—elegant, at ease, naturally graceful, naturally beautiful in their exquisite variety and in the exquisite settings he conjures for them. Contemporary stylistic riffs, exquisite skin tones, facial expressions and poses reveal personality and character in his figurative work that is unmatched. Color is a signature element in all of Brad's paintings.Vivid and neutral colors work harmoniously together in splendid variety. His compositions have music in them, balanced, nuanced, rhythmic and flowing here, staccato and syncopated there. Brad Smith's paintings encompass contemporary romanticism and abstract expressionism side by side, differentiated by degree of abstraction, united by compositional and technical brilliance. It's easy to see why his paintings resonate easily with an ever-widening field of collectors.
Watch a video of Brad Smith painting in his beautiful gallery/studio on Canyon Road.